MAZEN RE-LOCATION PROJECTS
At MAZEN RE-LOCATION PROJECTS we open a new door for Investment in Egypt, the Middle East & Africa, by relocating factories & production facilities from Europe. Many heavy industries such as steel, mills and cement are immigrating from Europe. MAZEN RE-LOCATION PROJECTS is able to realize for you this great investment opportunity from A to Z.
Many industries are immigrating from Europe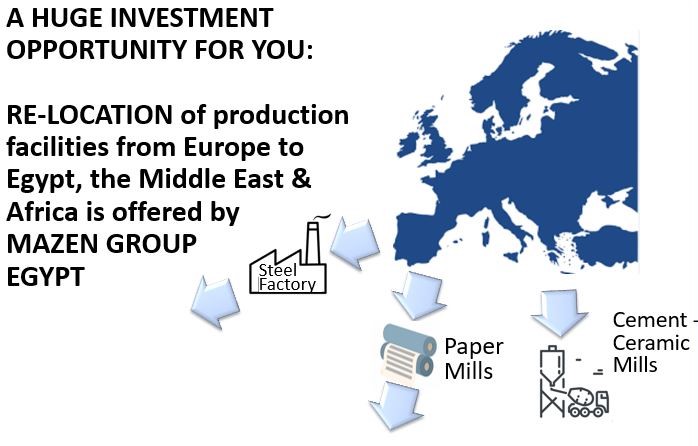 At MAZEN RE-LOCATION PROJECTS we have already over the years successfully relocated a number of factories and plants from Europe to Egypt. We have already successfully relocated several factories from Germany, Italy, Belgium and Scotland to Obour city, Beni Suef & 10th of Ramadan city in Egypt. We have relocated paper mills, steel production lines and in the ceramics industry.
 

MAZEN RE-LOCATION PROJECTS with its many partners, agents and affiliates in Europe is able to deal with all local authorities abroad in Europe. We contract for you the needed companies & outsourcing services abroad. Transport, Shipment, Logistics & Customs clearance are all tasks that MAZEN RE-LOCATION PROJECTS over takes for you in the project. Up until installation of equipment, commissioning & startup. Please feel free to contact us to find for you  your new re-location investment.